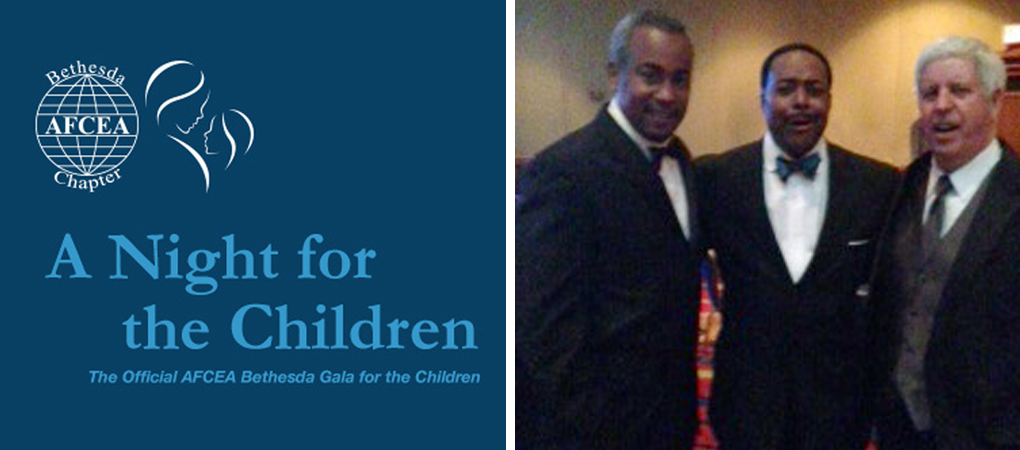 Our VP of Business Development, Robert Bailey and Chief Operating Officer, Bill Cole attended the AFCEA Children's Gala "A Night for the Children" .
They are pictured here with Leon Harris of WJLA, Channel 7
Celebrating our Past, Accelerating to the Future
For more than 15 years, AFCEA Bethesda Chapter has built a proud history of charitable giving, including donations to The Children's Inn at NIH totaling almost $6,000,000. Over the years, the Gala grew to become one of the largest supporters of the Children's Inn, helping transform an ambitious effort into a financially sound organization that supports children undergoing treatment at NIH and their families.
While continuing to support The Inn, AFCEA Bethesda seeks to replicate that growth model by adding another worthy organization that helps children and their families. After reviewing dozens of locally based charities that support the health and welfare of children, interviewing their leadership and going on site visits, the AFCEA Bethesda board unanimously selected The DC House of Ruth.
The DC House of Ruth works with over 1,000 individuals a year, including 400 children from 6 weeks old to 18 years. More than 250 children are sheltered at the House of Ruth as they recover from homelessness and abuse. The goal is to help these children build safe, stable and productive lives, breaking the cycle of poverty and neglect so prevalent among needy and abused kids.
AFCEA Bethesda thanks all of its members, related organizations, individuals, and of course, its sponsors for the incredible success of our first 15 years of giving. Now, as we move forward, we want to count on you for your continued support. Our goal is to continue the success of this charitable Gala as we expand our giving to new, worthy and needy organizations. Please, get involved, continue your support and join us at this year's Gala, helping AFCEA Bethesda continue its tradition of helping children in the local community.